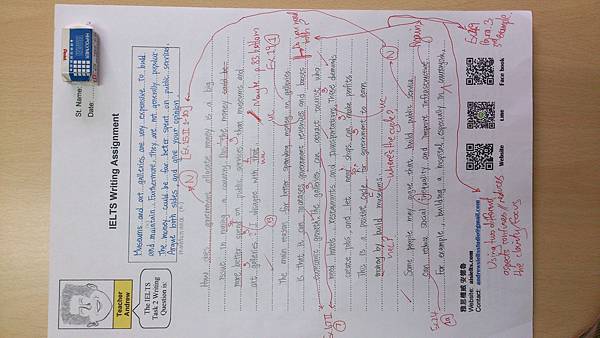 In the last few posts, I looked at the …
"This teacher is wonderful; (s)he corrects as many writings as I want" syndrome.
I explained how 'correction' of written work can be done well, or done badly, and if it is done badly, this correction can be useless – and that maybe your teacher is not as wonderful as you think. In the previous post, we began practicing using error coding to correct the first paragraph of the essay – see the picture above. Let's continue to look at the second paragraph of the sample essay. Try to correct the second paragraph based on the error codes and the suggestions given. Here is the second paragraph.
The main reason for better spending money on galleries is that it can increases government revenues and boost economic growth. The galleries can attract tourist who need hotels, restaurants, and transportations. These demands create jobs, and let near shops can make profits. This is a positive cycle for governments to earn money by build museums.
Study that second paragraph. The highlighted errors and suggestions are also written below.
Suggestion 1
The suggestion is Ex. 19-1 from my book. The answer says, 'This sentence repeats unnecessary words. Remember, your opinion has already been written in the first paragraph. Do not immediately repeat it again at the beginning of the second paragraph. This repetition (or re-phrasing) belongs in the third paragraph, where it helps to make your essay clearer.
Suggestion 2
… can increase
… can attract
The suggestion is Ex. 47 II-7 from my book. This answer says, 'Be careful also about being too weak, as in Example 7. Usually, words such as 'a few', 'could', 'might', and 'perhaps' do not make a strong argument. Think about 'many', 'often', 'usually' and 'most'. Thus, this example is better written as: …since most hardened criminals commit further offences. They usually ignore the law, and inevitably influence others.
Error 1
revenues = [uncountable] …………………
Suggestion 3
… and boost economic growth = [You can read my comment at the bottom of the page: Using two different aspects confuses/reduces the clarity/focus] ……………………
Error 2
attract tourist = [grammar mistake] ……………………
Error 3
transportations = [uncountable] ……………………
Error 4
nearb.. = [Wrong word] ……………………
Error 5
… let shops can make = ……………………
Error 6
Positive cycle = [logic // no cycle] ……………………
Error 6
Transportations = [uncountable] ……………………
Suggestion 4
… for governments to earn money by build museums = [unnecessary] ……………………
Now, go ahead and try fixing all the errors, following the suggestion, and re-writing the second paragraph.
[To be continued in the next post].
Find the meaning of the underlined words, also repeated below.
hardened (adj)
offence (n)
inevitably (adv)
revenue (n)
to boost (v)